Our daughter, Meyah Kathi Cumming, was born healthy and perfect just a few days ago, on the 25th December 2010 at 12:25, 51cm and 2695 grams. She is our second child. Liam was born three years ago. We know how lucky we are.
Meyah is named after my mother, Maya Cumming, though we've changed the spelling. My mother was named Margaret Maya Lawrence, but there was apparently an argument about which Margaret she was named after. So her father soon decided to use her second name, though her official documents always showed Margaret. It was always pronounced May rather than the Mei that you'd expect in Europe or Russia, though nobody in that family ever spoke enough about anything for us to be sure that it was on purpose. There was vague talk of her father's time in the pacific during the war, but that's just vagueness upon vagueness. Anyway, it was her name for whatever reason. But now that we live in Germany, where there are many Mayas whose names are pronounced "correctly", we thought we'd make the distinction clearer.
Her second name is from Sigi's great grandmother Kathi Oma – Katherina Kiefer, wife of Hans Kiefer. Her maiden name was Thor and she was born in a German-speaking village in the Romanian Banat.
Both Meyah and Sigi are fine now, but it was scary for a little while. Sigi had signs of pre-eclampsia for a few months, which turned into definite HELLP syndrome on the 25th. She needed a full anesthetic so I had to wait outside the operating room for thirty minutes. Then I held Meyah in my arms shortly after hearing her first cries. It wasn't our plan but it all worked out safely.
Liam's third birthday was just four days later on the 29th. Unfortunately he couldn't share it with his friends, or Meyah in the hospital, because we noticed the signs of chickenpox just a day later. Luckily he is not suffering much at all.
I am very grateful to our friends and Liam's Oma for looking after Liam at home while I visited the hospital, first in the nighttime for the birth and later because he wasn't allowed to visit.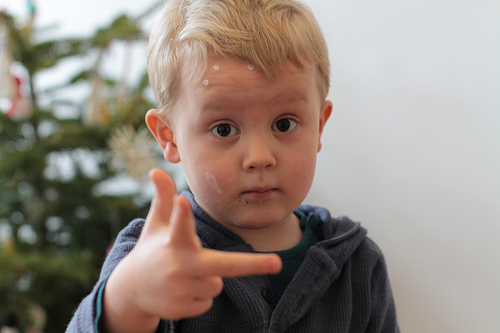 Liam has looked forward to Meyah and Mama arriving home. He understands how little a baby can do at first and knows that she will grow bigger and learn to do everything that he can do. He's very gentle and sweet with her. They will always have each other.