December's long season of presents is over and Liam is now two years old.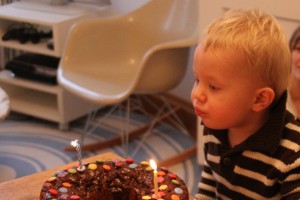 He's recently started the famous language explosion, learning several new words each day. He's obviously aware that he speaks two languages, now learning to say both words instead of preferring the first one he'd learned. He still prefers hand gestures where he has learned them first, seeing no need to learn words for them too.
For the past couple of months Liam has spent the mornings in the crèche over the road. That's why I'm online again every morning. It's great for him to learn some independence and spend time with the same kids every day. Leaving him there in tears has been heart-breaking every morning for weeks, but now he's happy to go there and is nonchalant about us leaving.
I was worried when he suddenly learned more German at the crèche, but that has settled down now. Still, I make an extra effort with plenty of English books and music and some DVDs of gentle British children's TV from the 70s, such as The Wombles and Ivor the Engine.
The language explosion was accompanied by a sudden increase in general understanding and concentration. Now he happily listens as I read all of a Dr Seuss book to him and seems to understand narrative instead of just wanting to identify objects. His imaginative play is more complicated, with detailed routines.
We've had a little snow in Munich this week. Liam learned to walk in last year's snow. I hope he remembers enjoying this year's.