gnome-lirc-properties GUI is now in Ubuntu Hardy, after much effort.
We had a variety of remote controls for testing, so we could at least guarantee that it worked for a certain list. Here are our results. The ones that worked perfectly were recognized by gnome-lirc-properties' auto-detection button and their keys were immediately recognized in the preview area.
Streamzap PC Remote Control (IR receiver and remote control): Worked perfectly.
SnapStream Firefly PC Remote (IR receiver and remote control): Worked perfectly.
Sound Blaster Remote Control Upgrade – White Box (Has its own IR receiver): Worked perfectly.
Pinnacle Remote Kit (IR receiver and control): lirc has no driver for this, and no patch has been submitted to lirc by anyone that can confirm that it works.
Xbox 360 Universal Media Remote. (Just a remote, though the XBox has a built-in IR receiver): This didn't work with any of the other IR receivers, but it presumably works with an actual XBox running Ubuntu. We'd love to hear from people running Ubuntu Hardy on an XBox. Does the auto-detection in our GUI work?
We also tried two other replacement remote controls that have no IR receiver of their own. They work with the other IR receivers – you can use the key learning feature in our GUI to configure them.:
Sony RM-V202 4-Device Universal Remote Commander.
One For All "Universal Replacement Remote" URC4110.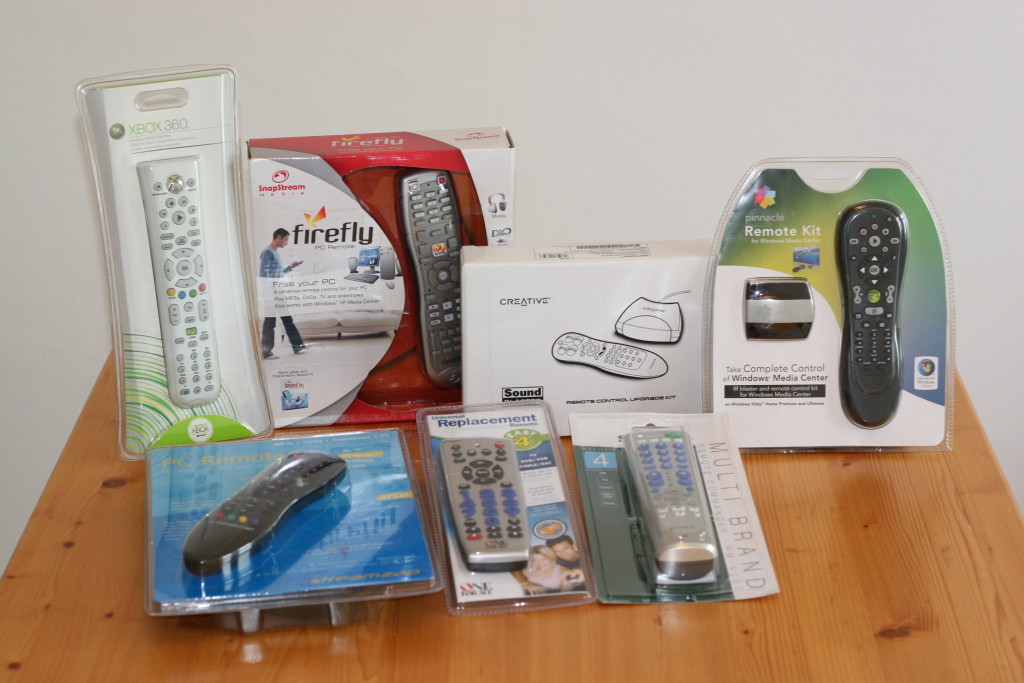 So I'm adding one of these to my Ubuntu Hardware page, because it just works.