Liam is just over two months old now. He's a little more aware of the world, though not really interacting with it much yet. He started to smile properly a week ago, and every day he makes slightly different vowel sounds. After two months of sleeping, eating and crying, the first wide smile makes a big emotional impact.
He's now nearly 5 Kg, almost double his birth weight, and my back knows it.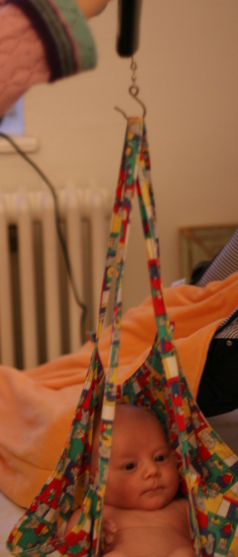 Sigi and I take turns so we can get other things done. I have the midnight to 4am shift, when I give him the bottle, and 10am to 12pm. I generally get work done between 12:00 noon and 18:00, and sometimes in that midnight to 4am shift. He's quite an easy baby, I think, but we are very lucky that there are two of us who can give him lots of time. It would be nice if he didn't need to sleep in my arms quite so much.
I have decided to avoid taking on much new work before June, so we can keep this daily routine for a while more. I'll also look for a small office in the neighbourhood – The Glockenbachviertel in Munich, in case anyone has a suggestion. But there is work to do so I'm still trying to hire new people.