On the 29th December 2007 at 16:55, Liam Kiefer Cumming was born, 50cm long and weighing 2610 grams. I've spent most of the day in the hospital since then, including a ridiculously happy new-year's in the Kinderstation changing and feeding him together as a family when the clock hit midnight.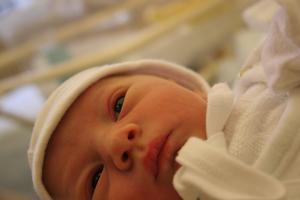 Early on the morning of the 29th we weren't sure whether it was contractions that Sigi was feeling but they quickly became regular and frequent so we walked the few streets through the cold (-20C apparently) to the hospital and were told we'd made the right decision. Things moved quickly after that and the birth went well, without major problems. Liam has some very minor temporary complications so he's stayed in hospital a few extra days, but should be home quite soon. He's quietly inquisitive when he's awake but mostly just sleeps, waving his arms for comic effect. He loves to drink but tends to eject it from either or both ends soon afterwards.
The people at the Maistrasse clinic here in Munich are skilled and patient, just firm enough and just gentle enough and there are many kind people to help with everything.
Liam's middle name is taken from Hans Kiefer, Sigi's great-grandfather who strolled with her around his Großsanktpeter village in the Romanian Banat, greeting everyone in their own German, Romanian, Hungarian, Serbian, or Roma languages, and who claimed to have used the same skills to fool various invading armies into believing he was one of them. When we visited Romania in 2006 we were invited into his old house, now the home of an aged Roma man and his family who remembered him fondly as Kiefer Bachi (or Baji, or something, apparently Serbian. Do correct me.) meaning Old man Kiefer. (Update: It's "Kiefer Bácsi" and it's Hungarian)
I'm particularly glad that Liam has three great-grandparents of his own on Sigi's side, because family is scarce on my side, though he will have nice holidays with his aunt in Wales and his grandfather in Scotland.