Last week I was on holiday in Amsterdam. I was so pleasantly surprised by the the place. It's now on my exclusive list of places I would just like to visit every now and then and walk around aimlessly, along with Venice and Istanbul.
I had no idea that such a vast amount of the old city exists and in such a perfect state. There's a functional found beauty to the rows of high narrow canal houses and repurposed warehouses. Their basic form is repeated in great numbers but each has a slight variation, and each seems to lean independently in its own direction. It's 17th century accidental Frank Gehry in brick. And the freakish absence of curtains means that an evening at a corner cafe is full of human narrative like a gentler Rear Window. The streets are an obstacle to cars, to the benefit of pedestrians, bicycles, and general well-being.
We stayed at the north of the Jordaan area, in an attic apartment that was charming but unfortunately right next to the (surprisingly quiet) main railway line and a construction site that started pile-driving early in the morning. The Jordaan, and the area around the main canals, have lots of little clothes and furniture stores to break up the adventure. We treated ourselves to a Piet Hein Eek scrapwood stool, in the Frozen Fountain store. I really like his stuff, but it only seems to be available in the Netherlands. The Droog design store is fun too.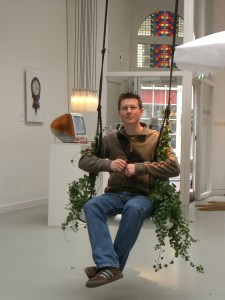 We also spent a wonderful evening at the Club 11 cafe/bar with various people from GNOME Netherlands, such as Wouter Bolsterlee, Reinout van Schouwen, Kristian Rietveld, Tino Meinen (GNOME translator, Amsterdam policeman, hopefully will upload pictures) and others. Maybe Erik Snoeijs, though I'm not sure. If it was, I should have talked to him more. These are some really nice people just to hang out with.
Club 11 is hidden away on the top floor of an old abandoned office building, surrounded by a building site, accessible via a long tunnel-like corridor covered in graffiti art, and either a slow lift or an unlit staircase. So when you get to it, it's amazing that it's full. It's very hip and offers stunning views over the water.
I really feel like I could live happily in Amsterdam for a year or so. I think I'd get the hang of the language after a few weeks – it's so similar to German mixed with English if you can figure out the mapping and pronunciation.