Updated with bug numbers:
As just mentioned, I installed Ubuntu Linux to remove the danger on my girlfriend's father's PC.
I made some changes because his eyesight has become quite bad since he had a stroke a few months ago. Mostly I just increased the font size. The following things were annoying:
I had to change the font sizes separately in the GNOME Font preferences and in the Firefox font preferences. Firefox Bug 319153.
In the GNOME font preferences, you have to specify the font size four times, separately. GNOME Bug 323270.
Firefox seems to ignore the font sizes most of the time, even when you ask it to always use it. (Of course you should always use them, Firefox, that's why I specified them. He has to increase the font size manually (2 or 3 "make it biggers", chosen from an awkward little menu item). Firefox Bug 319158.
Epiphany really used the bigger fonts, without the nonsense, but several web sites (such as gmx.de – a popular German webmail site) are unusable with larger fonts – text is truncated/overlapping, etc. That's most likely not Epiphany/Mozilla's fault.
Firefox's font preferences window is huge – too huge for the screen when using large font sizes.
Making the fonts bigger doesn't make non-text widgets (or window decorations) bigger. If you have bad eyesight then it's probably hard for you to click on little buttons. I hope that cairo (or something) will help us to eventually just change the size of everything, without worrying about the details.
The screen magnifier didn't work. I notice now that it wouldn't be useful anyway unless I can reduce the amount of magnification to something more appropriate.
Gnopericus's (The GNOME accessibility setup thing) GUI is unusable with large font sizes. See screenshot below. GNOME Bug 323381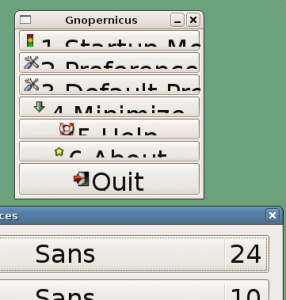 Really, I'd just like to change one little zoom percentage number for the whole desktop, and/or have a simple accessibility window/wizard to set things up for certain large classes of disabled people. Many will still need extra configuration for their particular needs, but this would get many people all the way there, and take the rest most of the way.
My own father also had a stroke a couple of months ago, shortly after a triple heart bypass operation. His was right-side. The other guy's is left-side. In his stroke ward at the hospital (they had touch-screen internet/TV screens. They were too complicated for regular people to use, let alone stroke victims. Don't get me started about the bedside phone that costs 49 pence per minute to call. But they seem to have fixed him up pretty good – he's back home and taking care of himself now. Oh, and he was also quite deaf before the stroke, so email is often the best way of communicating.
So I'm really interested in how user interfaces can be adapted for the special problems that stroke victims have, such as odd levels of awareness of events in different parts of their field of vision, long/short-term memory problems, language problems, etc. It's complicated stuff that I think falls under occupational therapy (ergotherapie in German).