The GNOME stand at LinuxTag in Karlsruhe this year is a real success. We are really selling the GNOME product, and presenting it as the simpler usable desktop that doesn't get in your way. Yesterday was very busy, drawing small crowds into the booth. There's lots of eager new Linux users who wanted to see how a Linux Desktop looks and lots of happy existing users. We seem to have gained many new GNOME users around the 2.6 time, and there's lots of new functionality to tell them about since then, plus the great new stuff in GNOME 2.11/12. We also have a list of suggested presentations, such as translations, bugfixes, and UI development, which inspires people ask us about the project.
We thought a bit about how to present ourselves this time, so it's much easier to engage people, make them comfortable, and be prepared for their questions. Free LiveCDs are the perfect way to start these conversations with people – you can tell people all about the GNOME that they will see when they install or try the LiveCD, showing them on the computer and encouraging them to play with it.
We gave away all 500 of our Ubuntu 5.04 LiveCDs, mostly in one morning, but some more should arrive by express delivery this afternoon. Plus we are burning our own German LiveCDs with some example content on there too. We can make just as many as we need thanks to the CD burning robot loaned to us by ADR Engineering.
People love our chunky GNOME logo too. I think some people have been buying the GUADEC bags from us just because they look good.
Our usual corporate sponsor couldn't provide the usual 2 LCDs this year and let us down at the last minute by not supplying the expected exhibition tables either. But Thomas Uhl at Topalis saved us by providing some flat screens, which Joerg Hoh (one of our GUADEC network geniuses) generously brought to us from Stuttgart. Many thanks for making it such a success.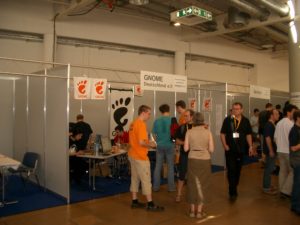 We are here until Saturday so visit us and take in the show.