I tried a couple of applications with my four-year-old son: Pictomir and MIT's Scratch.
Neither seem particularly well maintained and neither are suitable for young children without lots of supervision. Pictomir is easier to get started with, but not easy enough. Scratch is probably more interesting to older children, though they'll partly be learning about how software is still so often arbitrarily annoying, and I'd prefer that they were introduced via a better example. I'm very tempted to write something better.
Pictomir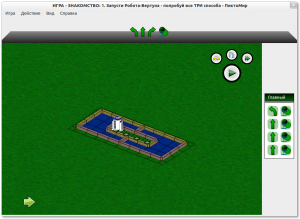 Pictomir leads the child through a series of levels, telling an R2D2 robot (Don't tell George Lucas) to move around some isomorphic squares to paint some tiles. At the beginning the program exists and the child just needs to click the play button. In subsequent stages the child has to build part of the program himself, and then all of the program.
The available commands, at least at the start, are icons for left-turn, forwards, right-turn and paint at the top of the screen. These may be be dragged into the available boxes in the program at the right of the screen, though you can instead put them there by clicking to select and then clicking on the empty box in the program. However, the available commands are far away from the program where you must place them, so the child has to spend lots of time moving the mouse pointer back and forth across a wasteland of empty space.
I found an official Ubuntu package in the developer's PPA. It was last updated to Ubuntu 10.10 (Maverick), but you can install it manually on later versions. All of its UI is in Russian, though you can ignore most of it because the UI is icon-based. When I built the newer code from source a few months ago, I think the UI was translated.
I guess that Pictomir was developed for a specific screen size and generally older PCs. It does not scale the playing area up, so the child has to deal with a tiny R2D2 on a tiny grid in the middle of wide empty space.
pictomir has a bare svn repository, though I can't see how clean its commits are, and I don't know if it's still used. There are no commits since last year. My svn says that the svn format is too old to check it out, though I've checked it on on previous Ubuntu installations.
It's website it quite awful (and only in Russian). I only discovered Pictomir thanks to commenters on Google+.
Scratch
The Scratch UI has several problems that make life hard for the child: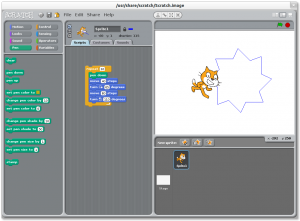 Scratch requires the child to cope with tiny targets (See Fitt's Law)
Scratch demands the use of drag and drop. This is frustrating for normal users, let alone children, and really hard with some laptop touchpads or trackpoints.
Update: Scratch requires the child to understand the difference between left-click and right-click. Right-click brings up a help context menu, which just causes confusion.
Update: The tiny commands have tiny text edit boxes. Children have a high chance of clicking it instead of clicking the command block itself. This problem could be partly solved by accepting drags on the edit box.
Scratch requires the child to double-click (see below).
The commands require the children to read, but a subset of the commands could instead be respresented by icons. The words are particularly hard for beginner readers because they are written in such a tiny font.
To get started with scratch, you need to figure out that you need to double-click on the first program command to actually start your program. There is no simple run button. You can cause your program to be run by clicking the green Flag button, but that's something you need to put in your program.
When you try to move a command around in the program, it moves the command and all subsequent commands, as a group. So moving just one command means moving stuff around and then moving some of the stuff back to where you started.
Your program moves the Scratch cat sprite around the canvas, but that canvas is tiny, and the sprite can move off screen. The only way I found to get it back was to double-click the set-x-to and set-y-to program commands. I can figure that out, but beginners will not.
When you've drawn all over your canvas, the only way to wipe it is to go to the Pen set of commands and double-click the Clear command.
The sprite moves far too fast for the child to understand the relationship between the commands and the motion, without someone explaining it. If the command says move-10-steps then I'd expect the sprite to visibly move 10 steps. Advanced users might prefer it to be faster and smoother, but the default should make things obvious.
There are some other strange things in the UI which are probably a side-effect of its eccentric (Smalltalk) implementation.
Scratch has a menu (well, an icon-menu) for changing its language, instead of just using the user's regular language.
None of the UI elements (menus, tabs, buttons, file chooser dialog, etc) match other standard applications on the system.
I think Scratch could be really popular with younger kids if it ran on Android with a touch interface and with less text, maybe as a simpler version. But the developers don't seem to have any interest in that – they seem to be working on a Flash-based version of Scratch for the web, which is unlikely to work well with touchscreens, even if they can get Flash to work on Android and iPhone (they won't). And I have no interest in hacking on Smalltalk. There seem to be various programming-language-based forks of at least the underlying engine, but none seem to be successful.