All this week, GNOME Deutschland is at the Systems fair in Munich. Our part of the show does not feel as busy as a LinuxTag, but there are many people eager to see how Linux looks, and very receptive to the idea of a beautiful easy-to-use desktop that's provides an escape from Windows hell.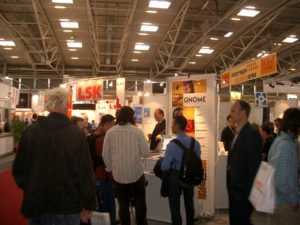 Unfortunately one of our volunteers dropped out so I have to be here all five days, which hits me pretty hard as I already have so much work to do. However, Joerg Kress is doing a fantastic job here, representing Ubuntu as well as GNOME.
A few thousand Ubuntu Breezy CDs should arrive tomorrow so we'll be able to satisfy all the Linux newbies who are asking about it.